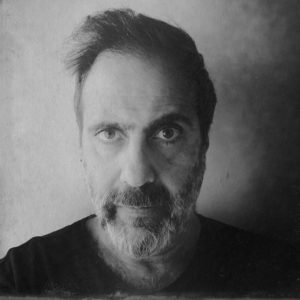 I was born in Beirut, Lebanon. I currently live in Paris, France.
My main activity is filmmaking, as a commercials director and writer/director of short and full-length features. I'm also a passionate photographer and graphic artist, the latter being what I initially trained for, since my earliest love was drawing.
I went to art school in England, studied graphic design and illustration at Kingston University and an advanced illustration course at Central Saint Martin's. I subsequently worked as a freelance illustrator for many years after that. During that time, I also worked for various advertising agencies, production companies and animation studios in London.
My first break as a film director came in 1989, writing and directing a series of commercials for a dairy company.
I moved to Paris in 1992 and began directing more commercials, all the while writing and developing more personal projects, two activities which continue to this day.
In 1997, I directed a short documentary, Beyrouth, les barbiers de cette ville. This opened new doors and allowed me to meet producers in Paris who decided to distribute the film in Europe. This first project, screened at various festivals and aired on Canal Plus and Planète, led to other short features, most of which won many awards in France and around the world, including the CÉSAR for Best Short Feature in 2006 for After Shave (Beyrouth après-rasage) . In 2007, I directed my first full-length feature film, Une Chanson dans la Tête (Melodrama habibi) released in 2008.
Today, I have various new film, photography and art projects in development. Stay tuned!